Music Education & Outreach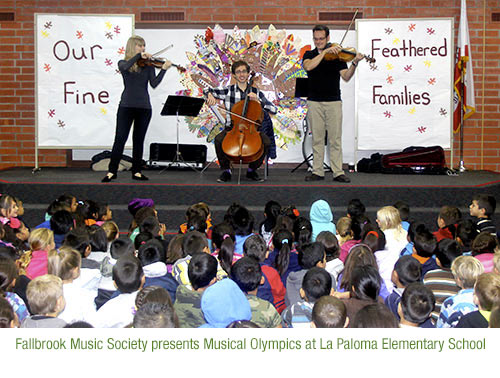 In addition to our public concerts, an important part of Fallbrook Music Society's mission is to inspire the lives of our youth through music education.  With the help of several local organizations and individual donations, we undertake a series of classical music concerts each year to provide students with an integrated progressive knowledge of the classical music, world music and its importance in the cultural history and development of the world in which we live.
We are proud to serve the almost 9,000 students who attend public schools in our community.  In 2014-15, Fallbrook Music Society will provide programs in schools as well as our new series, the Dr. Brenda Montiel Family Series at the Fallbrook Library.
Fallbrook Music Society is pleased to announce its tentative schedule for 2014-15
Redlands Symphony Orchestra Master Class (winds): Fallbrook High School
Sacra / Profana Choir: Fallbrook/Iowa Street, La Paloma, William Frazier, Live Oak
St. Petersburg State Symphony Orchestra: Fallbrook High School, Potter Junior High
Lincoln Trio: New Tech High, Sullivan Middle School, Bonsall Elementary
Sacra / Profana Choir Vocal Workshop: Fallbrook High School
Redlands Symphony Orchestra Master Class (percussion)